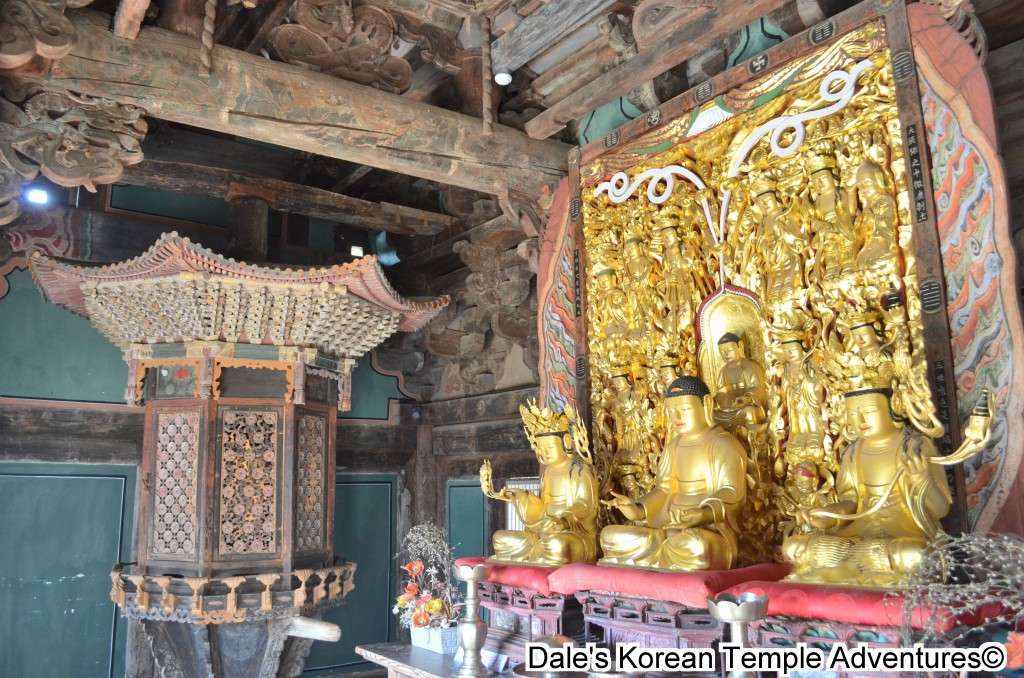 The Cultural Heritage Administration (CHA), an agency of the South Korean Government, has announced that it will promote Yunjangdae, a rotating Buddhist sutra case, to the status of national treasure. Daejangjeon, the hall where it is housed in Yongmunsa Temple, has also been named a national treasure. Both were deemed worthy of this status after considering the time of their establishment, religious meaning, and cultural significance. According to
The Dong-a Ilbo
, CHA has designated a total of 24 buildings as national treasures, and Daejangjeon will be the first piece of architecture to be named as such in eight years. The most recent building to be named a national treasure was Geukrakjeon Hall, part of Hwaamsa Temple in Wanju.
Located at Daejangjeon Hall of Yongmunsa Temple in Yecheon, North Gyeongsang Province, Yunjangdae is one of the more unique Buddhist heritage sites in South Korea. According to
The Dong-a Ilbo
, Yunjangdae, also known as the Revolving Scriptures Library Pillar, is over 800 years old and functions as a spinning pillar for Buddhist scriptures.
"Yunjangdae in Yongmunsa Temple is original and artistic in that it reflects thoughts about yin and yang and five elements of the universe as well as the sky and the earth while being adorned in a simple but sophisticated manner," said the official of CHA. "It is a comprehensive art piece born out of the artistic technique and capability in architecture, sculpture, crafts, and painting." (
The Dong-a Ilbo
)
The Yunjangdae is the only spinning bookcase in South Korea. It enshrines Buddhist scriptures inside which have been used in Buddhist ceremonies. Buddhists believe that by turning the Yunjangdae, they will gain positive karma without necessarily studying the Buddhist scriptures.
The roofed building of Yunjandae has been repaired over eight times since the late 17th century; nonetheless it maintains the same size and structure. Yunjandae is rooted in the ground with a rotating base and fastened to the ceiling with a spindle pole. The design goes from slim to large from the base of the library pillar to the top. The body of the Yunjangdae has multiple doors with floral designs and a colourful red canopy is placed at the top.
A YouTube Video shows that the Daejangjeon Hall of Yongmunsa Temple was built during the Goryeo Dynasty, established in 918, to keep books of the Korean Tripitaka. This elegant and exquisite building was designated as Treasure No. 145. Inside the hall, other Buddhist treasures can be traced with the Rotating Sutra Case of Yongmunsa Temple (Treasure No. 684), the Wooden Seated Amitabha Buddha (Treasure No. 989-2), and the Wooden Seated Amitabha Buddha Triad (Treasure No. 989-1).
Belonging to the Jogye Order, Yongmunsa Temple is situated in the picturesque valley below Yongmunsan Mountain. It was built during the Silla Dynasty (57 BCE–935 CE) and reconstructed during the reign of King Sejong of the Joseon Dynasty (1392–1897). It was badly damaged during the Korean War, but was restored and now consists of three buildings: the Main Hall, Daeungjeon Hall, and the bell tower. Venerable Daegyeong established the temple in 913. Another legend says it was established by the Crown Prince Maui, the last prince of the Silla Dynasty.
See more
Revolving Buddhist sutra case to be named national treasure
(
The Dong-a Ilbo
)
Revolving Scriptures Library Pillar –Yunjangdae
(Dale's Korean Temple Adventures)
Yongmunsa Temple and Gingko Tree
(Kids Fun in Seoul)
A Hall for Enshrining Buddhist Treasures
(YouTube)
Related news from Buddhistdoor Global
Jogye Order Of Korean Buddhism To Build Global Meditation Village
Collected Works on Modern Korean Buddhism Translated into English
South Korea Seeks UNESCO World Heritage Status for Seven Mountain Temples
Related features from Buddhistdoor Global
Seon and the City
My Journey on the Path of Won Buddhism
Jungmyungsa Buddhist Temple: A Haven of Korean Buddhism in Queens
Engaged Buddhism: Seon Master Pomnyun Sunim Pledges 10,000 Tons of Food Aid for Children in North Korea
Thank you
https://www.buddhistdoor.net/news/rotating-buddhist-sutra-case-promoted-as-national-treasure-in-south-korea