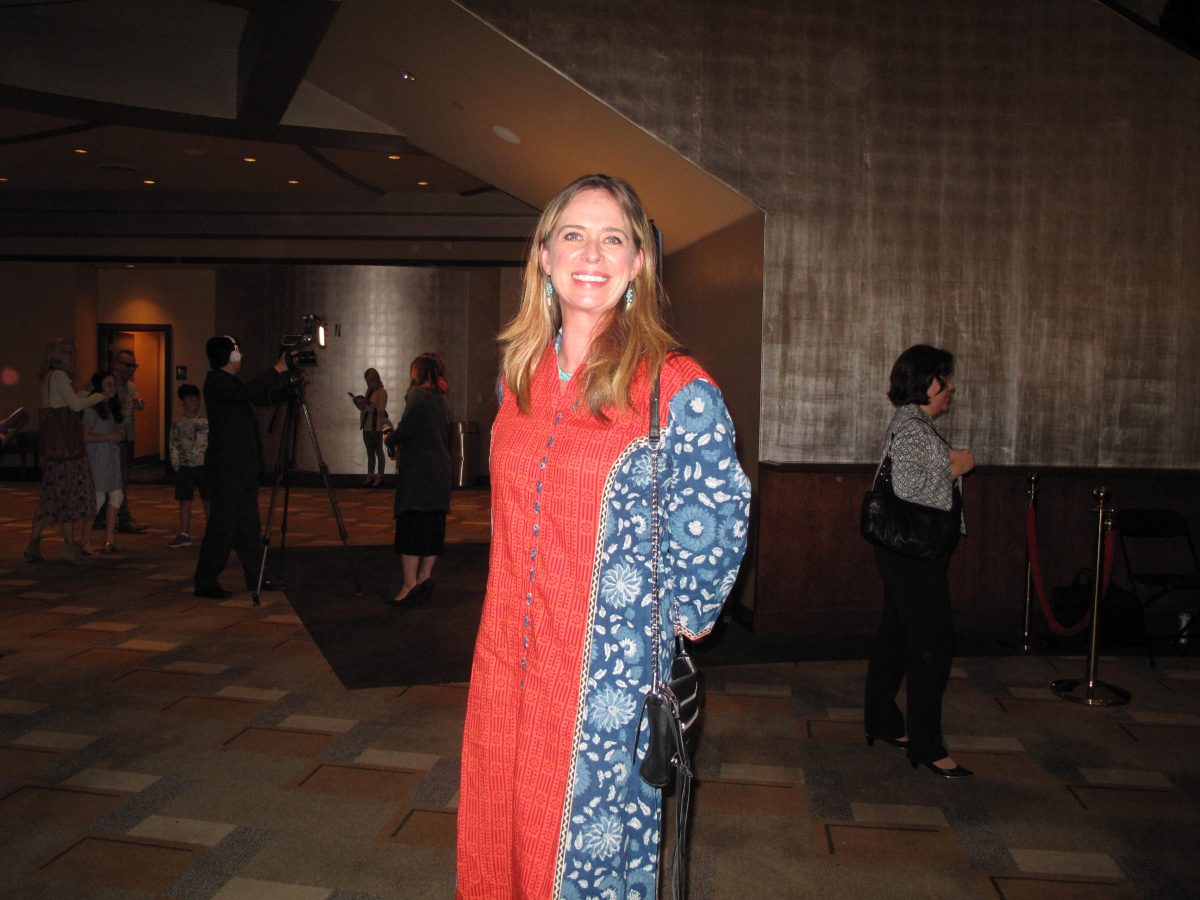 HOLLYWOOD—Lara Mackey, vice president in litigation at Sony Pictures Entertainment, enjoyed how
Shen Yun
Performing Arts was a learning experience on top of a world-class performing arts act.
"It was so amazing to see the traditional Chinese dancing, and learn more about the culture," she said. "It was very interesting. I loved it."
"I've seen a lot of opera and ballet and different shows, and this is a top-level performance."
Mackey saw the performance at the Hollywood Dolby Theatre in Los Angeles, California, on May 5.
The New York-based classical Chinese dance company is currently touring the world, with the aim to revive 5,000 years of traditional Chinese culture through the arts. Its two-hour-long program boasts a variety of self-contained segments, including classical Chinese dance vignettes, musical soloists, and dance-based storytelling.
"One of the main things that we learned was that there's this long history and tradition of Chinese dancing, and the different elements of that was fascinating, and then to see that in action was very beautiful," Mackey said.
She added that the two emcees' introductory remarks before each segment was very helpful in understanding the stories presented on stage.
The spiritual theme woven through the performance also stood out to the attorney.
"I believe that it was sort of a historical message about … the deep spirituality that comes from China. And how that still … maybe lives with people today, even if they're not exactly allowed to practice it," she said.
For thousands of years, Chinese culture has been rooted in belief in the divine, as reflected in the teachings of Buddhism, Taoism, and Confucianism. The values and ideas stemming from these teachings, such as righteousness, propriety, and benevolence, have guided Chinese people from generation to generation, up until the mid-20th century when the Chinese Communist Party seized power in the country.
Through a series of campaigns culminating in the Cultural Revolution, the party destroyed traditional ideas and beliefs and sought to replace it with atheistic communist dogma.
Even today, the regime suppresses people of faith, including adherents of spiritual practice Falun Gong, also known as Falun Dafa. The practice, which consists of meditation exercises and a set of teachings centered on the principles "Truthfulness, Compassion, and Tolerance," surged in popularity in the 1990s, with around 70 million to 100 million people practicing by the end of the decade, according to estimates cited by Western media outlets at the time. Perceiving this popularity as a threat to its one-party rule, the regime banned the practice in 1999, and launched a sweeping persecution, which has seen waves of practitioners imprisoned, and sent to labor camps, where many face torture or even death.
Shen Yun depicts the persecution of Falun Gong practitioners in some of its programs. Mackey said she did not know much about the suppression, but such news did not surprise her. She added that she would now like to learn more about the persecution that's happening in China.
Overall, the attorney was very pleased with the production, saying she would recommend Shen Yun to friends and family.
"I would just say that it's a beautiful, artistic piece," Mackey said. "So if anybody enjoys going to see art and learning more about culture, and really seeing a top-level production … this is a great example of that."
"And then to see something that's a little bit different or to give you a little bit of information into a different culture, that's also definitely something that you get from this performance."
With reporting by Yaning Liu.
The Epoch Times considers Shen Yun Performing Arts the significant cultural event of our time and has covered audience reactions since the company's inception in 2006.
Hollywood, United States
Shen Yun International Company
Thank you
https://www.theepochtimes.com/sony-vp-says-shen-yun-a-top-level-performance_2908196.html