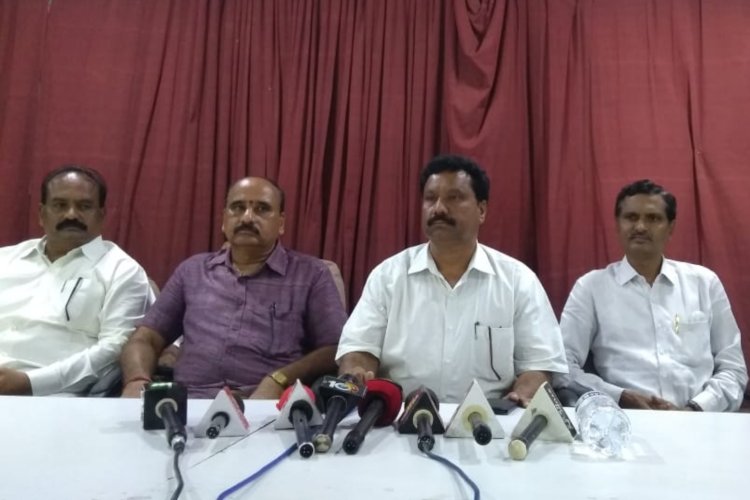 Following wild, unsubstantiated allegations against social welfare institutions in Telangana, accusing them brainwashing students to become 'anti-national' and then join the Indian Army to compromise national security, the teaching and non-teaching staff of these institutions are mulling defamation charges against those making the allegations.
On Monday, the unions associated with Telangana Social Welfare Residential Educational Institutions Society (TSWREIS) and Telangana Tribal Welfare Residential Educational Institutions (TTWREI) held a press meet in response to the allegations made against the institutions by Karne Srisailam, president of National SC Reservation Parirakshana Samithi (NSCRPS). Srisailam had accused the institutions of propagating "anti-nationalism".
The institutions run under the supervision of IPS officer Praveen Kumar and have been lauded for helping marginalised students reach great heights. However, Srisailam made wild allegations against Praveen Kumar – in a 12-page letter which he submitted to Governor ESL Narasimhan, Karne accused the institutions of forcibly converting students to Buddhism and not allowing Hindu festivals like Deepawali, Dasara, Ugadi, Bathukamma to be celebrated in the institutions. He further accused Praveen Kumar of "urban naxalism" for supporting Dalit MLA from Gujarat Jignesh Mevani and activist-academician Kancha Ilaiah.
Speaking with TNM, P Linga Reddy, president, non-teaching staff, TSWREIS said, "The charges of anti-nationalism, treason, our students compromising national security etc are very grave. We are contemplating legal proceedings against Srisailam."
Karne had also written that Praveen Kumar is "spoiling" the minds of students by propagating that Ambedkar is greater than Gandhi, and that "Gandhi betrayed Ambedkar."
Responding to these charges, Rangareddy, representative of TSWREIS prinicipals association said, "These allegations are baseless which should not be taken at face value. Ambedkar is a national icon – what is wrong in propagating his teachings and ideas?"
Besides the accusations of "anti-nationalism" and "religious conversions", Karne also accused Praveen Kumar of misappropriation of funds to the tune of Rs 300 crore by awarding contracts through his proxies.
"The tendering process is very transparent. It is the District Collector and Joint Collector who would call for tenders through newspapers – the Secretary has no role in it. The bidder who promises service at a low cost gets the tender. Now where is the possibility of corruption?" asked Rangareddy.
"After the allegations, we did our internal investigation and didn't find any such discrepancies. These allegations are made to malign the institution. We don't know why Karne is making such allegations, and we don't know who he is," he added.
Earlier, Praveen Kumar, too, responded to the allegations and through a press release said, "All our activities are in the public domain and are open for any kind of scrutiny. I wish NSCRPS members witnessed the progress that we could achieve and visited our schools and homes of the students and clarified their doubts over my functioning. It appears that they haven't done any of the above."
Read:
Brawl in Hyd press club: A larger conspiracy at play against Praveen Kumar of TSWREIS?
Thank you
https://www.thenewsminute.com/article/telangana-welfare-schools-staff-mull-action-against-people-calling-them-anti-national-102502