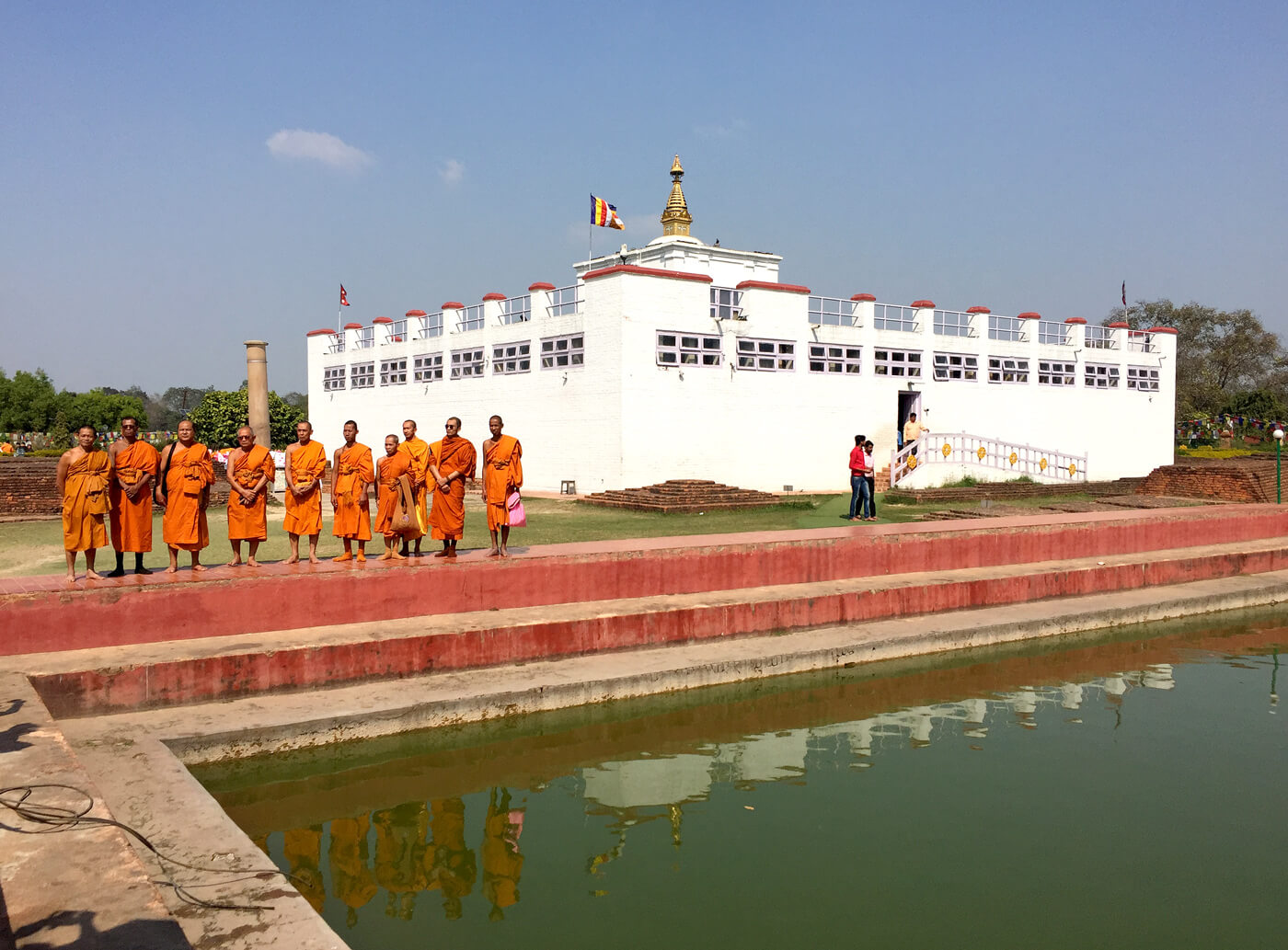 This is an important project to resolve the information deficit Lumbini currently suffers from, especially in the international monastic zone which is divided into two parts by the central canal. The eastern part has Theravada tradition temples and the western portion has shrines belonging to the Mahayana sect.
The temples are grandiose, and get a lot of visitors but there is not enough signage and information for visitors to learn from the significance that Buddhism has in sects within countries. Tourists and pilgrims can be seen clicking selfies without meaningful immersion and learning. The app, and the upgraded museum are expected to ease this problem.
Ven Metteyya (pictured, right) says that the trust is also working to revive spiritual Buddhist practices. "The experience in Bodhgaya is very powerful because monks are chanting and people are meditating. But Lumbini feels very museum-like. We will now revive Buddhism's living spiritual heritage in Lumbini," he says
Even though the
Maya Devi temple
receives the largest number of visitors, most spend less than 45 minutes there. There are not many activities to do in the larger Lumbini gardens either. The Lumbini Trust is seeking to expand its activities in the neighbouring districts of Kapilvastu and Nawalparasi which have over 235 sites of archaeological importance to Buddhism.
Kapilvastu
is the home town of Gautam Buddha, and where he lived for 29 years as Prince Siddartha before renouncing everything in search of enlightment. In Tilaurakot, visitors can see ancient excavations of the Budhha's father's palace. Ramagrama Stupa in Nawalparasi has some of the Buddha's corporeal remains. Among eight places where Budhha's remains were spread following his death, Ramagrama is the only one that remains untouched and in its original state.
Places like Kapilvastu and Ramagrama are valuable for pilgrims, but also for non-Buddhist tourists who want to learn about the Buddha's life and history.
The Trust hopes to promote these centres in a circuit that enriches the experience for visitors, and take them beyond just Lumbini. The expansion of the Buddhist circuit to these other sites would also spread out the benefits of tourism to larger areas.
"Promoting places like Kapilvastu and Ramagrama will definitely help the economy of local hotel businesses as pilgrims and tourists stay longer to explore the greater Lumbini circuit," says Tul Bahadur Thapa, manager of Hotel Aloka Inn in Lumbini.
To accommodate the expected increase in pilgrims and tourists, new hotels have started coming up in the Lumbini-Bhairawa-Butwal triangle which already had the look of a boom town with new factories and highways. Proximity to India also means new five start hotels like
Tiger Palace
are targeting Indian guests for weddings and to its casinos.
Travel trade experts say that Nepal Airlines should take the lead to begin marketing package tours and flights from Thailand, Sri Lanka and Burma directly to Lumbini, and not wait for the airport to be finished.
Thank you
https://www.nepalitimes.com/here-now/the-buddha-was-born-in-lumbini/