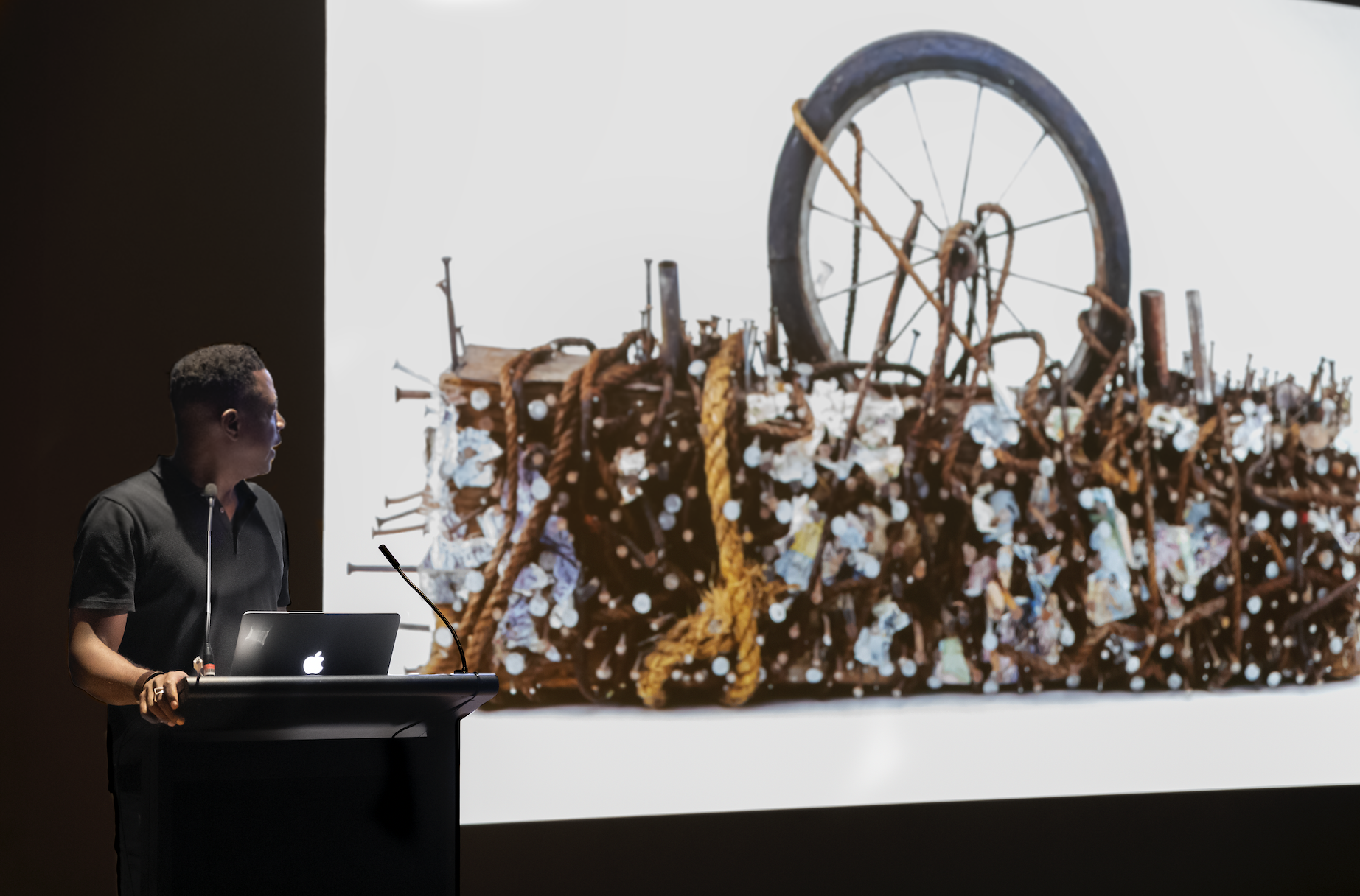 Interdisciplinary artist Sanford Biggers shared the historical, cultural and personal inspirations behind his works with University students at the List Art Building Wednesday afternoon.
Biggers is well-renowned for his multimedia work in film/video, installation, sculpture, music and performance art. Audience members listened to Biggers delve into the cultural fusion he employed in several of his dynamic works. He first explained how he worked with classical Japanese artisans to melt down hip-hop jewelry from Harlem in New York and jewelry from Japan to create a series of eight singing bowls. The bowls were modeled after the inverted bells traditionally used in Buddhist practices. The singing bowls were then played alongside a Japanese monastery's 200-year-old bells during an induction ceremony of a new monk. The monastery last performed the ritual 70 years ago, according to Biggers.
Another installation, "Lotus" — a 7 ½-feet diameter steel and glass disk — features drawings of enslaved people on 18th century slave ships manually etched onto glass petals. "It is a very seductive and beautiful object that makes you want to get closer, but the closer you get, you sort of realize the horrific reference in it," he said. "Lotus" currently sits in the Rubin Museum of Art in New York, but was previously displayed at the Virginia Museum of Fine Arts in Richmond, Virginia. A larger rendition of the work is also installed on an exterior wall of the Eagle Academy for Young Men in The Bronx, New York. This lotus icon often reappears throughout his work.
"What I'm trying to do with these objects is to create my own power objects," Biggers said.
"In a perfect world, when you're seeing (the power objects) with someone else, they have a different opinion, and you share those opinions. That way you get deeper into the work and a deeper understanding of how other people view the same world we're living (in)," he said.
Another one of his "power objects" is the Cheshire grin, an LED light that debuted in the Black Forest, a region in southern Germany, and went on to be exhibited in Richmond, Virginia. It was also recreated into a billboard that stands over the highways of Los Angeles. Initially inspired by Lewis Carroll's Cheshire cat, Biggers was interested in how viewers in Richmond, Los Angeles and other locations would interpret the piece.
"This idea of history being living. Worshipping or giving obeisance to that object in a museum is one thing, but what you take with you out of the museum is the living part," he answered when an audience member asked about his approach to historical artifacts during the Q&A session.
Ayana Evans, a performance artist and adjunct professor of visual arts, encouraged her students to come and listen to the talk. "He's super interdisciplinary, so I wanted (my students) to see that type of work. (Art) doesn't have to be one lane; it can be a fluid thing. His work focuses on more than just one cultural reference, which I thought was important for students to see and learn from," she said.
Heather Darcy Bhandari, an adjunct professor of visual arts and the organizer of the talk, explained that the process of organizing this event started a year and a half ago.
"I'm trying to pick artists who are cross-disciplinary," she said. After teaching visual arts for eight years, Darcy Bhandari said that she noticed that many VISA concentrators are double majors.
"There is a lot (of) cross (pollination) of visual arts and music students. I've also noticed there are a lot of multimedia students. I'm trying to find artists who are really amazing speakers and thinkers and makers who would also speak to the interests of the students here," she said.
Thank you
http://www.browndailyherald.com/2019/10/03/artist-explores-narratives-race-culture/