As buildings after buildings spring up in Shwe Kokko, a remote Karen border town bordering Thailand, many wonder if this mega-project real estate development is just an ordinary undertaking spearheaded by the Jilin Yatai Group of China, together with Colonel Saw Chit Thu, chief of the Karen Border Guard Force (BGF).
The Jilin Yatai Group was registered with the Ministry of Planning and Finance under the name Myanmar Yatai International Trading Co Ltd in February 2017.
Shwe Kokko, a former garrison town of Karen National Liberation Army formerly known as Kawmoora or Wangkha, is controlled by Saw Chit Thu, who is the chief of Karen BGF recognized by the government and affiliated to the Myanmar Army or the Tatmadaw.
Myanmar Times of September 18, 2018 reported the signing of agreement between Saw Chit Thu and the Chinese company in September 2017, organized by the China Federation of Overseas Chinese Entrepreneurs.
This project, dubbed as "Chinatown" by the locals is in fact so ambitious that it is touted as an equivalent of being second only to Hong Kong, China's special administrative region under one country two system. Reportedly, a 70-year lease from the Myanmar government has been secured, which may be extended up to 99 years.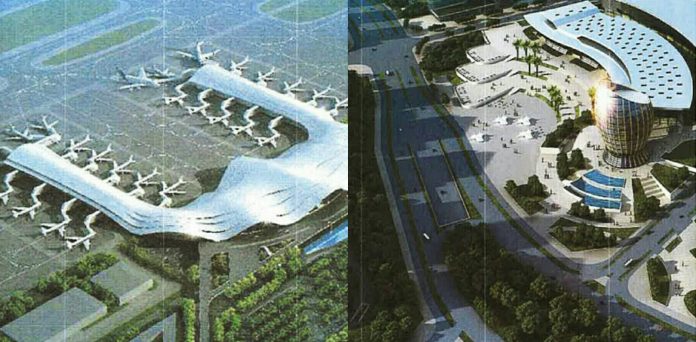 Photo Credit : bangkokpost.com / From left: The Chinese developer of Kokko Chinatown has secured a 70-year lease from the Myanmar government; Kokko Chinatown will be equivalent to a Chinese special administrative region, second in size only to Hong Kong. (Photos courtesy of Jilin Yatai International Holding Group)
Accordingly, the project plan will include luxury housing and homes, an entertainment complex, supermarkets, department stores, a police station, an airport, cargo depots, a one-stop-service center, a hotel comprising of 1,200 rooms, casinos, an industrial zone and much more.
This project believed to be the largest ever overseas investment project by Jilin Yatai Group is expected to be finished in 2027.
First phase
Myanmar Times September 2018 reported, the project, which covers over 2000 acres along the Thaungyin River and will cost an estimated US$15 billion (K23.35 trillion), applied for permission to build from the Myanmar Investment Commission in April 2017 and the state government, according to Saw Chit Thu of the BGF.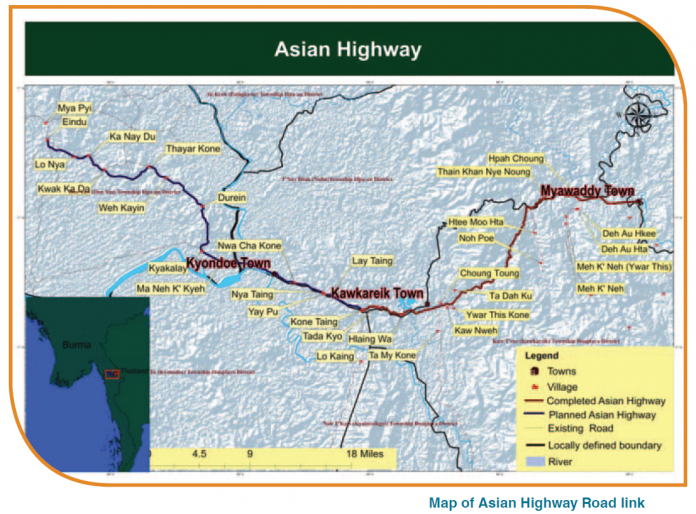 Photo Credit : ejatlas.org
Myanmar Investment Commission announced that it granted permission for part of the initial phase of the project on July 26, 2018, specifically 25.5 acres with a $22.5 million investment.
According to figures released by the commission, the border guard contributed 20 percent of total investment. However, the papers submitted to the commission did not include plans for gambling halls, an airport, and international universities, said U Aung Naing Oo, commission secretary.
A Cambodian businessperson had invested 67.68 percent and a Malaysian invested 12.31 percent. There were no Chinese investors, even though Myanmar Yatai is Chinese-owned and China-based company, according to Aung Naing Oo.
Although the joint undertaking wanted to get the whole project approval in one go, it was not granted by the government. Thus, the first phase which did not include the building of casinos, airport and international universities, which are still unclear but presumed to be already approved by the observers and media. The first phase is said to be finished within three years according to the Chinese engineers.
Importance of the location
Regardless of the Myanmar Investment Commission portraying the joint undertaking as purely international, the Jilin Yatai Group is a China-based one and the Shwe Kokko project won't be possible without Beijing's blessing said the keen observers.
According to Bertil Lintner, an expert on Myanmar, pinpointed that the place is located only within some 20 kilometers from major border crossing point bridge opened in 1997 between Thailand's Mae Sot and Myawaddy. A second so-called "friendship bridge" was recently built near Shwe Kokko but land ownership disputes have prevented it from opening and the area is still a commercial ghost town, wrote Lintner in Asia Times on March 1, 2019.
Additionally, the border crossing at Mae Sot-Myawaddy stands on Asian Highway 1, which connects east, southeast, south, and west Asia. While the Asian Highway portion of Myanmar was problematic due to ethnic insurgencies along the route, the situation has changed for the better with nationwide ceasefire agreement in place and especially with the control of the Karen BGF in the area.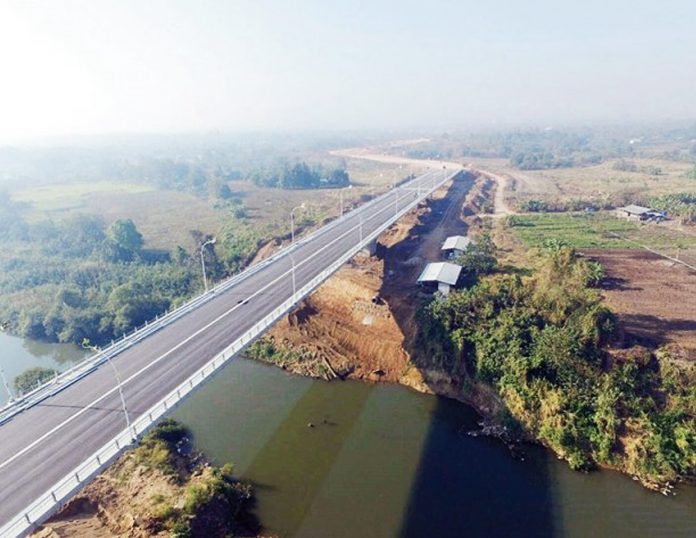 Photo Credit : bangkokpost.com / Ambitious links: An aerial view of the second Thai-Myanmar Friendship Bridge in Mae Sot district. The bridge will open next month. (Photo by Asawin Pinitwong)
Different players and interests
Regarding the mega-project, different stakeholders will no doubt have different interest in minds.
The central Myanmar government is interested in foreign investment and the benefit that comes with it, while the Karen state government is also keen to develop its state economically for the benefit of the state's population.
Saw Chit Thu, who has come a long way from being part of the Democratic Karen Buddhist Army and later the Karen BGF chieftain affiliated to the Tatmadaw, is interested in upgrading its power and control of the area under its sway through economic success which he hoped to achieve through this investment. He is already a well looked-up leader in his own rights, as a promoter of Karen culture, community development and persuasive negotiator.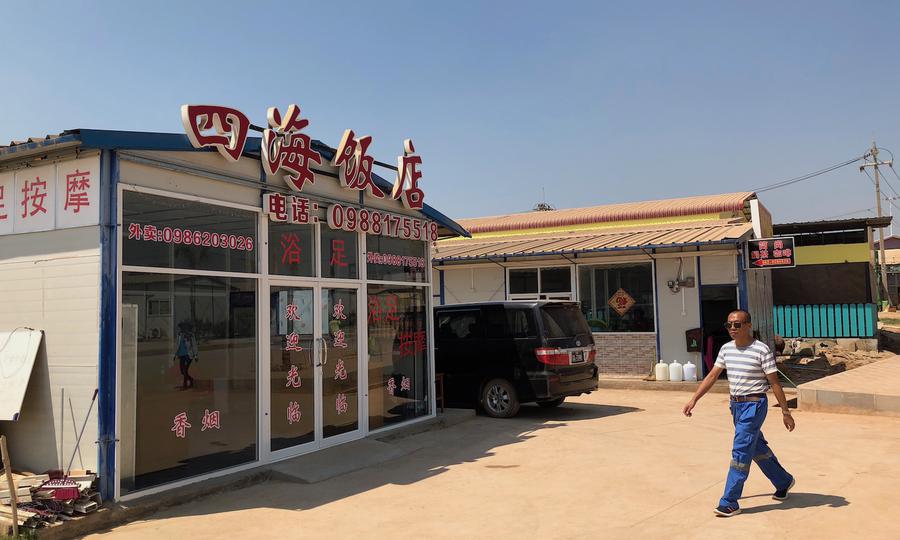 A Chinese shop at Shwe Kokko's emerging Chinatown enclave in Myanmar, February 22, 2019. Photo: Bertil Lintner
The Jilin Yatai Group, although carrying the mega-project under the aegis of a state-owned company without official connections in Beijing, is going to be a strategic importance to China as another observation, early-warning and implementation outpost for Myanmar-China Economic Corridor, to facilitate China's one trillion US$ Belt and Road Initiative (BRI) to connect China with the rest of the region and beyond.
Last but not least, Thailand's Tak province bordering Shwe Kokko mega-project is afraid of the projected boom of the mega-project, which will pass-over Thailand as the Chinese investor group will order goods from China directly into Myanmar. Besides, there is also a phobia that the project will also lead more investors switching from investing in Thailand to Myanmar, because rules and regulations on transnational investment are far less strict, according to Phakhaphon Likhitpratkun, manager of Zhong Xingtai Pattana Co, a real estate company in Mae Sot. She is also convinced that the Chinatown project will have an impact on Tak's special economic development zone, reported the Bangkok Post on June 23.
However, Thailand has now projected to cash in on tourism boom which might come with the Shwe Kokko mega-project, where some 400,000 Chinese may reside at its finishing.
As for the local Karen people, the local said as all the workers and engineers are from China, and the profits will go to their organizations and business owners. Adding that they could experience an increase in crime and environmental damage.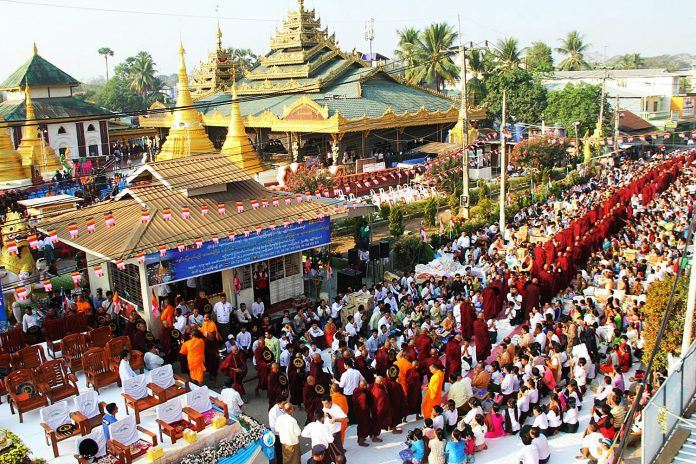 Photo Credit : bangkokpost.com / Kokko Chinatown project sparks concerns in Tak
According to Karen Human Rights Group, a report in March 2018 indicated some villagers' lands in Shwe Kokko were confiscated by the joint undertaking along Moei river and a few houses of four to five were compensated. In January 2018, the BGF was said to held consultation meeting with the land owners and community members whose lands would potentially be affected by the city expansion project, regarding compensation. Further news on the follow-up have not been available so far.
For now it is not yet clear why such an ambitious mega-project is being built at the remote border location and whether China is really keen that it becomes an overseeing southern post to facilitate its BRI for the region.
Thank You
https://www.bnionline.net/en/news/chinas-thai-myanmar-border-investment-shwe-kokko-chinatown-mega-project