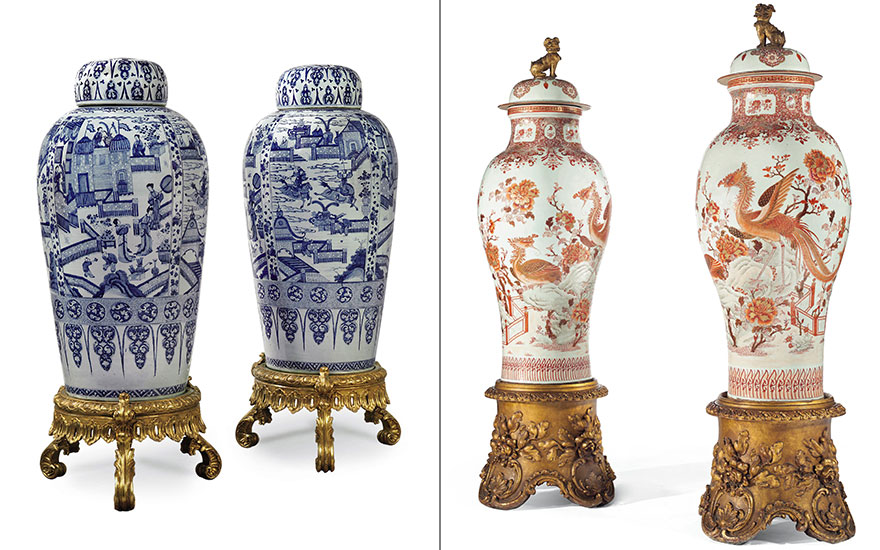 One might think that the root of the term 'soldier vase' is fairly obvious, as these masterworks of Chinese Export porcelain do, in many ways, resemble stick-straight sentries.
They stand nearly five feet tall — even taller when raised on their carved giltwood stands — and they are often installed in guard-like fashion, flanking doorways and mantelpieces in stately homes.
Specialist Becky MacGuire looks at a selection of 'soldier' vases from The Tibor collection, which was sold at Christie's in New York in 2019
Then there are the silhouettes themselves. Gently curved and exactingly proportional, they swell at what might be one's shoulders and taper at what could be read as one's ankles and, higher up, one's neck. They are vibrantly and intricately enamelled and some are topped with figurines of Buddhist lions, which serve as handles, though one might see them as the pointed or feathered military helmets of yore.
Yet soldier-like as they may seem, the term 'soldier vase' stems not from the size and shape of these works, but from an unusual diplomatic exchange — one that emphasises the degree to which European nobility admired and coveted Chinese luxury goods at the height of the China Trade Period, explains
Chinese Export
specialist Becky MacGuire.
'Augustus the Strong of Saxony — who reigned from 1694 until his death in 1733 — was obsessed with Chinese porcelain,' she says. 'In negotiations with Frederick the Great of Prussia in 1717, Augustus traded the newly-minted leader 600 cavalrymen, known as dragoons, for a collection of 150 Chinese porcelain vases. Ever since, they've been known as soldier vases, or sometimes, dragoon vases.'
These vases, which range in decoration from classic blue and white motifs to
famille rose
and
famille verte
, and armorial and European subject matter, were renowned for their unparalleled craftsmanship.
At the time, 'it was completely impossible in Europe to make anything of this size in ceramic,' MacGuire continues. 'It's something you needed hard, true, white porcelain for, which was only made in Jindezhen in China during most of this period.'
And even there, the best of the best in the studio would work on them at every stage. 'Each vase is a tour-de-force of the potter's art,' confirms the specialist. 'They were extreme luxury goods at the time, and they still are today.'
Thank you
https://www.christies.com/features/A-brief-history-of-soldier-vases-9949-1.aspx?sc_lang=en