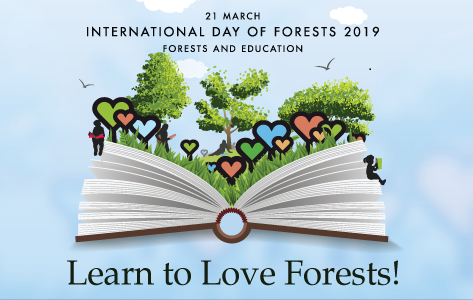 "Forests and people are intertwined. Humans rely on forests for their basic needs: clean air, food, water, and raw materials for medicine, shelter and clothing." This was stressed by Dr. Theresa Mundita S. Lim, Executive Director of the ASEAN Centre for Biodiversity, on the occasion of the International Day of Forests on 21 March. The annual celebration emphasizes the importance of all types of forests and trees in the world.
Dr. Lim said beyond the basic needs, forests play an important role in development. Forests are key ecosystems that significantly contribute to the achievement of the United Nations Sustainable Development Goals, which are geared towards economic growth, social equity, and environmental protection.
Citing the ASEAN region as one of the world's fastest growing economies, the ASEAN biodiversity expert said the region's 200 million hectares of forest cover is one of its main development assets.
"Our forests abound with species that provide ecosystem services to support the region's growing population. They are home to millions of plant and animal species that serve as raw materials for businesses and industries. Forests also provide income as millions of ASEAN citizens rely on forest products for their livelihood. The ASEAN Biodiversity Outlook 2 reports that, on the average, export from forest products has been valued between USD 3.1 billion for fuel and timber products to USD 44.44 billion for plantation crops per year," Dr. Lim added."
She emphasized that economic development is threatened by climate change. "ASEAN's forest cover defends us from the detrimental effects of climate change as trees remove carbon dioxide from the air, store carbon, and release oxygen into the atmosphere. Tourism contributes to economic development. ASEAN's forests provide aesthetic natural beauty through the rich biodiversity, serving as favorite spots for tourism, inspiration and relaxation."
Dr. Lim cited ASEAN's response to conservation of biodiversity and forest ecosystems – the ASEAN Centre for Biodiversity's flagship programme called the ASEAN Heritage Parks (AHP) – which are protected areas of high conservation importance, preserving in total a complete spectrum of representative ecosystems of the ASEAN region.
The AHP Program, Dr. Lim said, aims to generate greater awareness, pride, appreciation, enjoyment and conservation of ASEAN's rich natural heritage, through a regional network of representative protected areas. The programme also aims to generate greater collaboration among the ASEAN Member States in conserving their shared natural heritage.
Of the 44 ASEAN Heritage Parks, majority are forests. Among the favorite AHPs for ecotourism are the Khao Yai National Park in Thailand, Mt. Makiling Forest Reserve in the Philippines, Bukit Timah Nature Reserve in Singapore and Kinabalu National Park in Malaysia.
The Tasek Merimbun AHP in Brunei Darussalam is a wildlife sanctuary, serving as home to a variety of flora and fauna. It also serves as recreational center and venue for research and education. The Virachey National Park in Cambodia is famous for sustainably managing natural and cultural resources in partnership with local communities. The Gunung Leuser National Park in Indonesia is particularly significant as it is the last place where orangutans, tigers, elephants, rhinoceros and leopards live together.
The Nam Ha National Protected Area in Lao PDR supports agricultural production and electricity generation along the Luang Namtha plain. At the Alaungdaw Kathapa National Park in Myanmar, the Buddhist monks have joined forces with authorities to educate over 100,000 pilgrims annually about wildlife. At the Kon Ka Kinh National Park in Viet Nam, local people depend on the park's resources for their firewood, honey and rattans. They also use at least 110 plant species with traditionally-known medicinal values. These are just some examples of how major forests in the ASEAN contribute to the overall development of the region.
Dr. Lim encouraged governments, the business sector, organizations and individuals to take action in promoting the conservation of forests, and making sure that they veer away from irresponsible practices and activities that threaten ASEAN's forest biodiversity and ecosystems. (ACB)
Thank You
https://pia.gov.ph/press-releases/releases/1019962