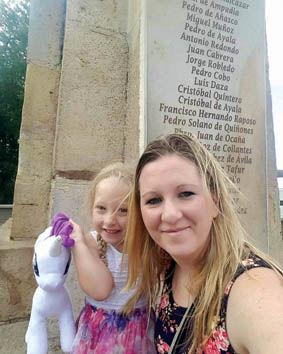 Melissa Healey, 28, of Mundy Township, wears a lot of hats in a typical day. She is a full-time clinical social worker for children and teens by day, and the busy mom of Ava, 5, a kindergartener at West Shore Elementary in the Lake Fenton school district by night. A vegetarian, she has been manager of the Grand Blanc Farmers Market and also runs a volunteer cloth diaper program, Ava's Cloth Share, from her home, distributing more than 500 cloth diapers to help families economically and the environment. She and her daughter are world travelers, proponents of education through travel. She graduated from Lake Fenton High School in 2008.
What is worldschooling?
 Simply put, it's an approach to life and education that combines learning and travel. I was inspired by my grandparents, especially my late grandpa. When my mom and her sisters were young, they lived in Mexico while her father worked for GM. He always talked about their experiences, foods and lifelong friends they made. My grandparents always traveled. I always felt like I could do this, too. I wanted to make friends in all four corners of the world.
 When I studied in Cambodia during college, it was the most eye-opening experience of my life. I was hooked; I knew I had to keep traveling.
You and Ava have gone many places. Where have you been?
 I call our trips "adventures" because we try very hard to have authentic cultural experiences. Our first adventure was to Canada when Ava was 3. When she was 4, we visited Puerto Rico; at 4 ½, we spent three weeks in Colombia, South America. Our next adventures were two trips to Mexico. Our travels have taken us farther and longer as Ava's gotten older.
I hear you just got back from Nepal. Tell me about that.
 We just got back from a month-long adventure to the island of Zanzibar, mainland Tanzania and 2½ weeks in Nepal, between China and India. It's the home of Mt. Everest and the Himalayas. Not too many kindergarteners have trekked the Himalayas or slept in a Buddhist monastery.
Do you plan these travels yourself?
 The smaller ones, yes, but the extended ones we've gone through Enlightened Globe Trekker Adventures. We're doing the Seven Continent Challenge. So far, we've been to North America, South America, Africa and Asia. We're planning our next adventure sailing the Greek Isles, stopping in Paris for four days and Athens for three days. Future travels will likely include the Australia/Oceania continent, Egypt, Kenya, Thailand and Indonesia. Antarctica will have to wait until Ava is 12.
How do you think Ava benefits from travel?
 Ava has grown so much through travel. She's shy and she blossoms more and more. She has beautiful interactions with people. While traveling, she takes her public schoolwork with her, but her learning is really through experiences.
 Each time we plan our next adventure, Ava and I look at a map, read books, go online and watch videos about what we might see. We research native animals, food and work to learn the language, often the hardest part. Ava has learned how to say words and phrases in Spanish, Swahili, and Nepali.
 As we travel, she practices number and letter recognition by looking for our airplane row, seat numbers, and flight gate numbers. While flying, we read books about airplanes to learn how they work. Once we arrive in the country, our learning objectives always include connecting with local people.
 Ava has learned about currency through not only dollars but with Colombian and Mexican Pesos, Tanzanian Shillings, and Nepali Rupees. She understands that each of these currencies look different, and have different values.
What about learning to give back to others?
 That's part of the worldschooling philosophy. Ava spent every Sunday at the Grand Blanc Farmers Market last summer selling jewelry I made and she raised a significant amount of money.
 A family in Bagamoyo, Tanzania needed flip-flops so we were able to distribute 80 pairs to the village as well as contribute to three teachers' salaries in Kaule, Nepal. We also distributed gloves to children in a nearby village.
What is something about you that most people probably don't know?
 I have a spreadsheet for every single aspect of my life. Also, I'm an advanced scuba diver. In the summer, I scuba in local lakes. Someday I hope to scuba dive in the Great Barrier Reef in Australia.
 Editor's note: Melissa Healey was also featured as a "Look who's talking" when she was a senior at Lake Fenton High School in April 2008.
Click below for Melissa Healey's "Look who's talking"
Thank you
https://www.tctimes.com/living/our_town/melissa-healey/article_2abeb146-2956-11e9-9e89-b376409b0792.html