Roman Chiporukha and Erica Jackowitz, the husband-and-wife co-founders of
Roman & Erica, Inc.
, run a full-service lifestyle management company based in New York. The nine-year-old firm pulls in $7.5 million in revenue annually — booking its clients' travel, restaurant reservations, kids' birthday events and more.
"Effectively, we're a combination of three things: Personal assistant, a high-end travel advisor and a really-well-connected concierge," Chiporukha says. The couple launched the business nearly a decade ago, having worked at the world-famous Fischer Travel Enterprises, known for providing extremely detailed and customized services for its extremely high-end clients, and charging very healthy fees to do so. Chiporukha and Jackowitz, who were not yet a married couple, left Fischer Travel to launch their own company, whose goal is to handle all of its clients' leisure needs, sometimes to an extreme.
"Membership" at Roman & Erika starts at $62,500 per year but that fee can go up to $150,000 depending on the makeup of the family and its needs. Business is so good, they've stopped taking new clients (although as admitted "workaholics" they will make an exception upon occasion).
Luxury Travel Advisor's ULTRA Summit
May 21-23, 2019 | Reunion | Kissimmee, FL
This exclusive, invite-only event focused on the luxury travel market brings together world-class travel agency owners and managers with the most opulent, luxury suppliers to cultivate collaboration, share insights, and help carve a path into the future of luxury travel.
What's unique about Roman & Erica is its lack of an online presence. At
www.romananderica.com
, you will find a slideshow saying, "This is your life. Roman and Erica help you live its very best version."
That's all. And that's on purpose.
"We don't want to be found. We only want to be found by referral," they tell Luxury Travel Advisor. And even when referred, potential Roman & Erica clients must sign up for a three-month trial period to see if they will be a proper fit before committing to a yearlong membership.
So how do you live the best version of your life with Roman and Erica?
Thinking outside of the box is key, Jackowitz tells us. For instance, the pair built a pop-up resort for clients in the middle of the desert in Morocco — luxury tents and bedding, fire pits, camels, belly dancers and more were all brought in. The best part? It was all a surprise to the clients. "You take people out of their comfort zone to experience something new — I think that's what everyone should be doing," Jackowitz says. "That's the point of traveling: To be out of your comfort zone."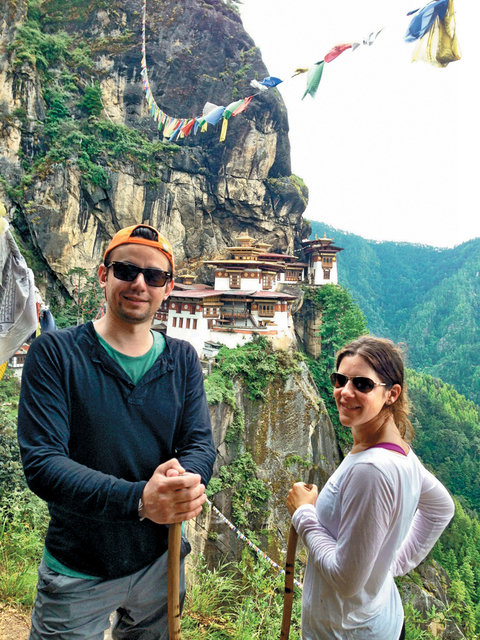 In Bhutan: Roman and Erica imbibe the calmness around the sacred Buddhist site of Paro Taktsang, also known as the Tiger's Nest.
Other over-the-top efforts that Roman & Erica has pulled off? Breaking down walls at a resort to create a two-bedroom suite, having an orchestra play a private show at St. Isaac's Cathedral in St. Petersburg, Russia and flying in an engineer from his vacation to turn on the Peacock Clock at the Hermitage Museum (also in St. Petersburg) for a client.
Another difficult trip that Chiporukha and Jackowitz pulled off wasn't even for a client — rather, it was for a client's passport. At 7:30 p.m. the night before the clients and 10 of their friends were to fly from West Palm Beach to the Galapagos via private plane at 6 a.m., one of the guests realized they left their passport in New Jersey. The duo had someone they know drive from New York to Atlantic City, pick up the passport and bring it to the plane they chartered to fly the unaccompanied package to Florida. The guest had her passport the following morning and the entire group made their flight.
"It's just about creative solutions, being there and creating moments and seamlessness, so people have the time to enjoy their family and everything they've worked so hard to enjoy," Jackowitz tells
Luxury Travel Advisor
.
"I think we often talk about leisure time being our only non-renewable asset, so we treat those moments with kid gloves," Chiporukha adds.
The pair cites their business model as one of the reasons why they can so easily go over the top for the clients — they're not worried about how they can make money from each thing they do for a client; the membership pays for their time and any commission earned is simply extra. Jackowitz tells us that once a trip is booked, they continue to search for the best fares, saying, "I think almost every one of them [their clients] can attest to having at least once received a phone call to say, 'I just got a reduction on your flight fare.'"
Another — more important reason for going over the top, they say — is their genuine, close relationship with their clients. "They invite us into their world; we travel with them; we know them; we care about them," Jackowitz says. "They are a part of our team, as we are part of theirs." But when you combine the two — the membership model and their close relationship with their clients — the team at Roman & Erica can pull off impressive feats.
Chiporukha and Jackowitz have a team of 10 working with them — seven in-house advisors who also operate their business under the "private membership" model and three independent contractors who run their business how they see fit. With quality being the focus over quantity, Roman & Erica is not looking to expand — especially among its independent contractors, as Chiporukha and Jackowitz wear many hats and don't often have the time to train someone who is new to the industry. To note: They both maintain a book of clients, while Chiporukha serves as the CFO and focuses on operations and business development, and Jackowitz serves as the president, managing the team and vendor relationships. The one addition they may make this year? An office manager to help take some load off with certain tasks.
A few paths had to intersect before Roman & Erica was formed as a full-service lifestyle company. Chiporukha got his start in the travel industry at the Waldorf Towers in New York right out of college, at the front desk. He followed this by working for a very well-to-do Russian family, who had him traveling between Moscow, Los Angeles and New York, acting as an all-inclusive, full-service assistant. Anything they needed, he would handle: Organizing travel (think private jets and yachts), overseeing properties, collecting Birkin bags, Patek watches and vintage Ferraris, booking Michelin-starred restaurants, finding access to events (like the Grammys and private Hollywood parties) and even securing doctor's appointments. When they wanted him to work for them full-time in Russia, he decided to go elsewhere. He cold-called Fischer Travel, which brought him on board.
Jackowitz, meanwhile, pursued a career in travel after a travel agent messed up her first "big trip" as an adult, booking the wrong hotels for the wrong dates. Jackowitz ended up calling the resorts herself and getting everything sorted out, even arranging activities and spa treatments — all well in advance. She also eventually found her way to Fischer Travel.
In time, Chiporukha and Jackowitz left to start their own business; they spent weeks researching and talking to industry leaders, and eventually launched Roman & Erica, Inc.
Along the way, Chiporukha developed a custom-built customer relationship management (CRM) tool for the company by partnering with his SalesForce developer — "who now knows the travel industry inside and out." To come up with the product that they now have, Chiporukha would spend nights with the developer requesting specific changes to best suit his agency's needs. It added back-end functions, such as accounting, tracking, reports, payments and a search engine, to the front-end itinerary and documentation.
With the CRM, Chiporukha, Jackowitz and their team can keep track of their clients' interests, allergies, seating preference on planes, IDs and passports and more — and then send a calendar invite to keep track of the itinerary, if that's their clients' preference.
"We needed a solution, and he [Chiporukha] created one out of my head," says Jackowitz. Building travel technology is not where Chiporukha saw himself 10 years ago but, now, they can't see how they functioned without it. Prior to their current CRM, Chiporukha and Jackowitz kept track of all of their info in Excel spreadsheets, Word documents, ClientBase and in their heads. As a boutique operation, improving their functionality was key — and being a team was crucial to bringing this to fruition.
"I don't know how anyone comes into this business and does it alone because I think it's two very important heads," Jackowitz says. "I'm client-facing and vendor-facing; Roman's the business end of things. So, he would sit down with me and ask, 'How do I get what's in your head to a place where other people can access it?'"
"We did this to improve our business and take it to the next level," Chiporukha says. And it did. "This system has made us stronger as a team," Jackowitz says, noting, while the CRM is completed and in use, the team is constantly tweaking its functionality.
Chiporukha tells
Luxury Travel Advisor
that the goal isn't to license out the product. "The point is it [the CRM] needs to be customized, unfortunately," he says. The team does recommend putting in the time and resources to building one that fits your needs, however.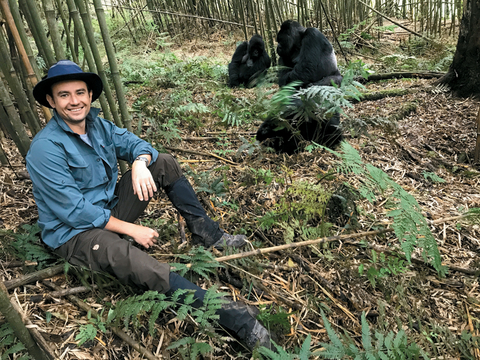 In Rwanda: Roman Chiporukha gets up close with gorillas during a stay at the Bisate Lodge.
Exciting Times
In late 2018, the agency was selected by Axiom Space (whose CEO, Mike Suffredini, is the former director of the International Space Station) for a partnership to offer clients a 10-day trip to the I.S.S. in 2020. Guests will go through 15 weeks of training alongside career astronauts and will blast off in Elon Musk's SpaceX rockets; they will stay in modules designed by Phillipe Starck with such amenities as an advanced galley, sound systems, 24-inch windows to view Earth, Wi-Fi and more. The price tag for the trip? $55 million. We hear Roman & Erica and Axiom have already sold two of the three individual tickets available.
"We are literally now travel agents to the stars," Chiporukha says of the partnership.
Axiom Space handpicked Roman & Erica after vetting several luxury travel and lifestyle management firms. "It's just a matter of hard work, circumstance and being in the right place at the right time," Chiporukha adds. One of the main reasons for their being chosen, were the clients that the pair works with: C-Level executives, "whose net worth does start with a 'B.'"
On the surface, the 10-day trip is the ultimate bragging rights. "People have been to Papua New Guinea, and this remote place and that remote place," Chiporukha says. "They've done everything that you can possibly imagine, so the only place left to go… is up."
Jackowitz adds, "it's not only about having the money but it's about wanting that sense of adventure."
But looking deeper into the opportunity, Chiporukha and Jackowitz spoke about how "travel humbles you" — how visiting different cultures can give you a different perspective on life. They imagined a scenario where one of these commercial astronauts sees the Earth as a whole, and how — given the money required for the trip — they have a real potential to effect change back on land.
Clients and Suppliers
Roman & Erica have clients all over. Due to their location in New York, a large contingency comes from the East Coast, but they also have a significant amount on the West Coast, Europe, Asia, Russia, South Africa and South America. Most of their business is conducted over the phone, text and e-mail; they also have an office that's open for their clients to meet with, or even use if it's more practical than other destinations in Manhattan.
Among the trends that Chiporukha and Jackowitz are seeing from their clients are an increase in an effort to seek wellness, conservancy and untapped destinations; they've also seen more clients booking private jet journeys. Two resorts that the duo is high on for those in search of a wellness getaway are
Brenners Park-Hotel & Spa
in Baden-Baden, Germany and
SHA Wellness Clinic
in Alicante, Spain. Sustainable travel is also top-of-mind for Roman & Erica's clients, with several taking trips to see gorillas in Rwanda, rhinos in Kenya, elephants in Tanzania and Thailand, and tigers in India. And before things change in their respective destinations, Chiporukha and Jackowitz suggest visiting Cuba and Bhutan, both of which still currently offer a very authentic experience for travelers.
"I think it's very important, in terms of travel trends, to try to anticipate the landscape of what may change in certain areas, as the world is constantly changing," Jackowitz says.
And despite all the trends and new destinations, the classics remain popular. For both Chiporukha and Jackowitz, and their clients, Greece and Italy are perennial favorites. "People ask us all the time, 'What's your favorite country?' Italy, Italy; we love Italy. We go back there all the time," Jackowitz says.
As for Greece, Chiporukha and Jackowitz suggest skipping the popular islands, such as Mykonos and Santorini. According to Chiporukha, other islands in the Cyclades — such as Naxos, Folegandros and Sifnos — are "sensational." The best way to experience the destination, he says, is to charter a yacht and island-hop; he says the same for those who have been to Italy, saying you could spend one day in Capri, wake up in Sicily the next, and spend another out in the Sea to take a dip in the water.
But it's always important to tailor the trip specifically to the travelers.
Last June, Jackowitz had clients who stopped in Paris after a month-long trip to Africa. They happened to visit between the Men's and Women's Fashion Weeks; they also happened to be huge Alexander McQueen fans — one of whom owned a couture jacket that was designed just for him. Jackowitz surprised her clients by arranging for them to be taken to the showroom to meet with the Alexander McQueen team. "There was no price tag — I was just able to do it [for my clients]," Jackowitz says.
In another instance, Jackowitz looked to find a way to arrange for a client of hers to play tennis with Roger Federer while he was in New York for the U.S. Open. At first, she wasn't able to put anything together, but she was able to set it as a task in the CRM that Chiporukha built, which kept a constant reminder for her. Eventually, she followed up with Federer's team, was put in contact with his mother and found out Roger was hosting a small tournament in Stanford. Coincidentally, the client's husband was on business in San Francisco. She called the husband, bought two outfits for her client, and came up with a story to get the wife out there to surprise her. In the end, the husband spoiled the surprise, but it was still something Jackowitz was able to pull off based off her contacts, her efforts and a few reminders from her custom SalesForce CRM.
"The key is, the better you know your clients, the more you can do for them and truly be proactive," Chiporukha tells
Luxury Travel Advisor
.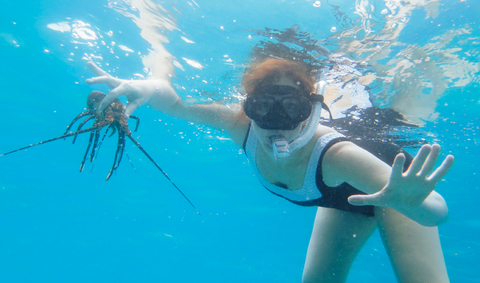 In Seychelles: Erica Jackowitz goes snorkeling for a lobster dinner at North Island.
To help pull off these feats, Roman & Erica carefully vets the suppliers they use — picking out ones they've used firsthand or that were heavily recommended by other industry experts, locals or the clients themselves. "We select boutique operators who are very much under the radar and, like us, do no marketing or advertising, nor are they in need of quantity," we're told. "For us, it's about quality over quantity."
We hear that Roman & Erica's attention to detail has even motivated the suppliers to "up their game, so to speak." To this regard, Roman & Erica has an open layout office, so that the team can listen to and observe how Jackowitz speaks with suppliers (and clients). "It's extremely important for everyone to learn from one another," Chiporukha says. On that same note, he tells us that none of their advisors has a specialty — whoever was the last to visit a destination is the go-to. The one area where this differs is the non-travel lifestyle component, where each advisor can hone their own interests, be it theater, golf, food and wine, music or adventure.
Joining Virtuoso, which they did in 2017, was also key to building their business. "The community is amazing," we're told. "The resources and ability to ask others for their guidance when something comes up that we may not be familiar with is second to none. Virtuoso is amazing and we love everyone there — I believe this really stems from the leadership of Matthew Upchurch, who not only is a visionary but someone who has become a friend and confidant to us both.
Work-Life Dynamic
The business was Chiporukha and Jackowitz' first baby, or so they joke. The pair initially met while working at Fischer Travel, where they became friends. They maintained their friendship through the launch of Roman & Erica, but eventually things began to change.
They would travel together, go to restaurants together and spend upwards of 18 hours a day together building their business. "Effectively, you're going out on a lot of dates," Chiporukha says.
A year in, spending that much time together, the pair would ask themselves 'Why aren't I sick of you? Why aren't you annoying me yet?' Then, one of their first clients brought Roman to travel with him for a year, to escort him around, book hotels and jets; "basically everything we envisioned — for the company," Chiporukha began, before Jackowitz finished his sentence. The client also took Chiporukha aboard his yacht, so he could book his shopping, scuba diving tours and whatever else he desired right from the boat, without having to contact Chiporukha in New York throughout the trip. The time apart helped the pair's relationship grow, we're told; they even made time to meet up in various parts of the world: Monaco, London, South Africa.
Upon Chiporukha's return home, they decided they wanted to focus on a relationship. Now, the couple is married with two children, Sebastian, four; and Livy, two.
"We made a decision very early on to have separate office spaces, and I think that allowed the relationship and the business to flourish," Chiporukha tells Luxury Travel Advisor. Aside from when they worked out of Jackowitz's 84th Street apartment, they have never had a desk next to each other. Like any couple, they'll bicker on occasion but made it a priority to make it so that their team never sees that.
The couple also makes an effort to give back. Three years ago, they started a travel writing contest. Currently, Roman & Erica runs the contest with Midwood High School, a public school in Brooklyn — Chiporukha's alma mater — and an organization called Prep for Prep, which sponsors children who can't afford to go to a private school to attend just that. The kids will write a story about why they want to travel to a specific destination, then Chiporukha, Jackowitz and a panel of 11 other judges (which includes the likes of Upchurch, artists, filmmakers, CEOs and more) select a winner and send them and a guardian to that destination. Chiporukha, who immigrated to the U.S. from Russia when he was a kid, is very passionate about the project and wants to expand it to all five boroughs, eventually.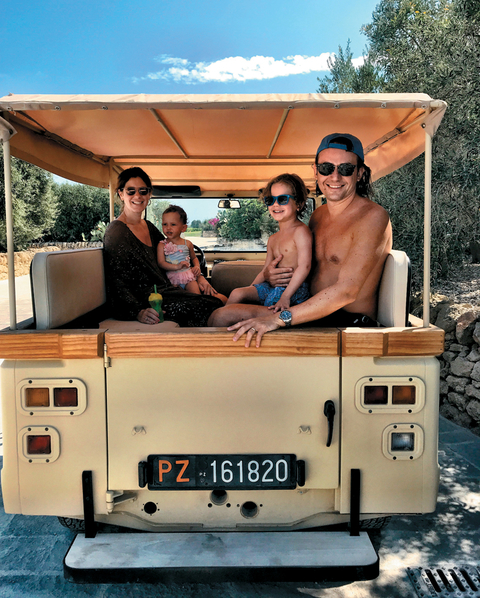 Family time: Chiporukha and Jackowitz spending time with their kids at Borgo Egnazia, a five-star property in Puglia, Italy.
"It takes a lot of work and effort and follow-up with the schools and with Prep for Prep, but it's been super rewarding," Chiporukha says.
Running the agency, maintaining a professional and a personal relationship, operating the contest and finding time for their personal interests takes a lot of effort and time. But it's something both Chiporukha and Jackowitz tell
Luxury Travel Advisor
that they're happy with — crazy requests from clients included.
"I think not knowing how your day's going to unfold or what you're going to do is very exciting to me," Jackowitz says. "I think we're in a very fortunate position to have made a life for ourselves that have included a fabulous career, a great marriage and children, who are wonderful — and somehow we manage to make it work," Jackowitz says. "I look forward to inspiring others on my team to have that, too."
Related Articles
Five Questions With: Shelley Cline, Richard Butler of TCS World Travel
Pleasant Holidays Launches New Online Tool for Travel Advisors
Marriott Releases Updates on Starwood Hack
Travel Leaders Group Opens New Broadway Headquarters
Thank You
https://www.luxurytraveladvisor.com/people/roman-erica