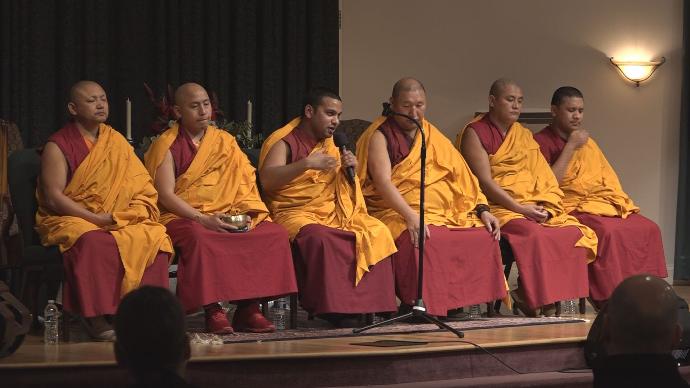 CHARLOTTESVILLE, Va. (CBS19 NEWS) —
A group of Tibetian monks made a stop in Charlottesville as a part of their Tashi Kyil Tour at Unity of Charlottesville on Thursday night.
The monks are from the Tashy Kyil Monastery in Dehradun, India.
Thursday's program was called called "Meditation, Visualization, Chanting & Tantra: An Evening Meditation."
The monks held meditation exercises with the people in attendance while also performing their Black Hat and Skeleton dances.
The program emphasized spreading messages of love, peace, wisdom, and compassion.
Lob Sang Manjushri, one of the monks, said that it is important to show respect to others even though people might have different views or ideas.
"In this world, there are lots of different types of allegiances," said Manjushri. "So we need to respect each other and we need to understand each other. It doesn't matter what kind of allegiance you follow. So it is very important that we practice peace, compassion and love."
The monks will also be at Unity on Friday night hosting another program called "A Course in Happiness: An introduction to Tibetan Buddhism."
It will feature a discussion of life inside the monastery and a performance of the Tashi Shopa Dance
The event is free to attend but there is a suggested $10 donation.
The donations will support the monastery in India with food, medical supplies and other facilities.
Thank you
https://www.whsv.com/content/news/Tibetan-monks-visit-Charlottesville-to-spread-peace-505590451.html?ref=451