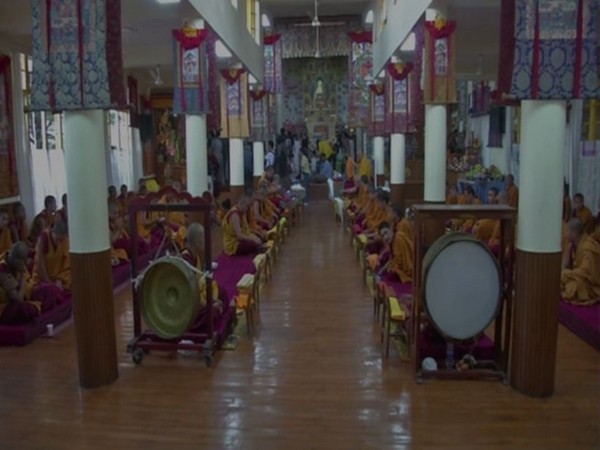 Dharamshala
(Himachal Pradesh) [India], June 18 (ANI): Tibetans in exile here commemorated the full moon of
Saka Dawa
here on Tuesday.
According to the Tibetan Lunar calendar,
Saka Dawa
marks the full moon of the fourth month and is considered to be a day of celebrations and religious importance for Tibetan Buddhists.
It is believed that in this month and especially on
full moon day
is when Shakyamuni
Buddha
took birth, achieved enlightenment and 'parinirvana' (death).
A monk, Rinchen Nyima said while speaking to ANI, "
Buddha
is our main teacher, our main guru, so many Buddhists remember him on this
full moon day
of
Saka Dawa
."
He continued, "People perform good deeds on this day. Giving alms, food and money to beggars are considered good deeds. There is also a saying in our tradition – 'If we do a single job, it will double up to a hundred'."
While Tibetan Buddhists worldwide are honouring the life of
Buddha
, on an individual level, they are engaging in a number of holy acts like reading scriptures, taking part in retreats, fasting, freeing animals, donating food, clothes, money or anything to alleviate others' suffering.
Delek Wangmo, a local Tibetan women said, "We believe this
full moon day
to be auspicious because our guru
Buddha
took three important life stages – came into the womb of the mother, achieved enlightenment and attained 'parinirvana'. Tibetans also consider this as a day to purify their misdeeds. We perform 'parikarma' and good deeds on this day."
The main Buddhist temple here, Tsuglagkhang, has been seeing a huge crowd of devotees coming in to offer their
prayers
.
The
prayers
on this auspicious day are headed by the
monks
of Namgyal monastery of Dalai Lama. (ANI)
Thank you
https://www.aninews.in/news/lifestyle/culture/tibetans-celebrate-buddhas-life-on-full-moon-of-saka-dawa20190618122556/